This article was written by Laura Williams-Tracy – Contributing Writer on March 10, 2023 and posted on the Charlotte Business Journal.
Link to article: https://www.bizjournals.com/charlotte/news/2023/03/10/tri-pointe-homes-gray-shell-homebuilder-townhomes.html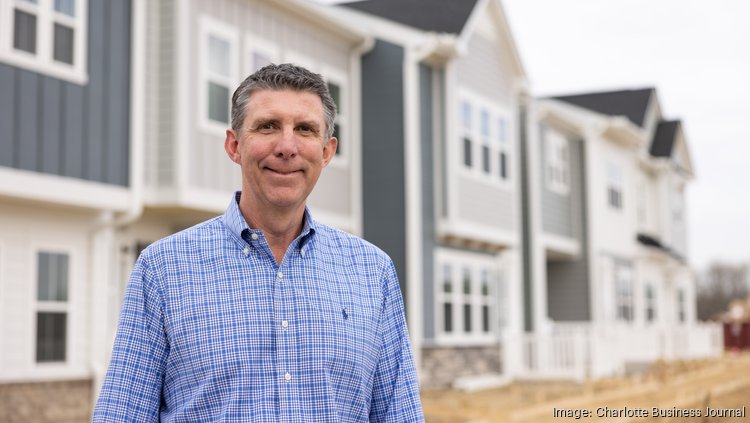 Gray Shell was Tri Pointe Homes' first employee in the Carolinas when the California-based builder set its sights on the Charlotte market in 2019. By early 2020, Tri Pointe was getting its first community off the ground in Fort Mill.
Gray Shell was Tri Pointe Homes' first employee in the Carolinas when the California-based builder set its sights on the Charlotte market in 2019. By early 2020, Tri Pointe was getting its fir
With Covid's arrival, Tri Pointe (NYSE: TPH) paused for about 90 days, then the housing market took off. Tri Pointe opened four communities in 2021, seven communities in 2022 and will open four more this year.
"This was the right place at the right time," says Shell, the builder's Charlotte division president. "We saw a great increase in demand in 2021 and 2022. We ramped up the business and construction activities, and then we ran into the supply chain wall."
While other builders chased affordability by building in secondary and tertiary markets farther away from the city, Tri Pointe Homes chose to build smaller homes and townhouses in close-in locations, Shell says. That strategy has worked well in Charlotte, which was predicted to be the hottest housing market in the U.S. in 2023, according to Zillow.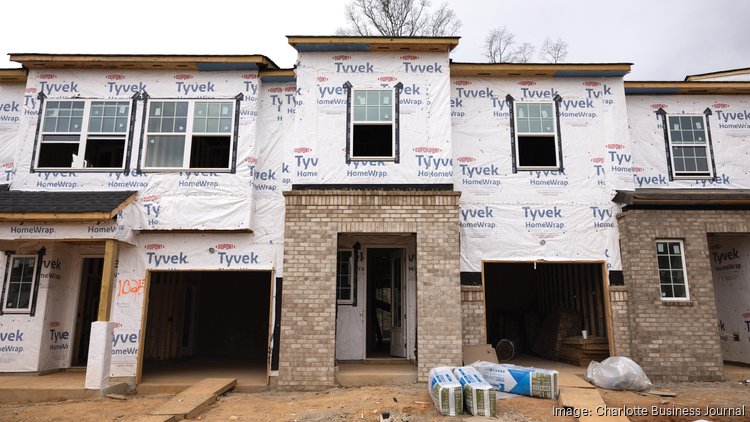 Shell spoke with the Charlotte Business Journal about the strength of the local housing market and Tri Pointe's position.
What's the biggest challenge you face? In 2022, the biggest challenge was to get homes built in a reasonable amount of time. We closed 46 homes in 2021 and 310 last year. We could have closed more homes if supply chain issues had not slowed completions. We expect to build nearly 400 homes this year as supply chain challenges subside. Our input costs of developing land and building homes increased 40% over the last two years. But costs aside, labor availability has been the biggest challenge. Most of the material supply issues have worked their way through the system. It's now the availability of skilled trades like drywall, paint, tile and flooring.
Where is Tri Pointe building locally? We are in Pennant Square in Kannapolis in the revitalized downtown. We have two neighborhoods in Mooresville, and in Harrisburg in a neighborhood called Farmington, and in Fort Mill and Rock Hill. We are building from the $300,000s to over $1 million in McLean in Gaston County. Our projects are location-driven.
Many production builders say building in Mecklenburg County is too difficult. You've made it work? Mecklenburg County is not easy. But part of our strategic difference is that we are a West Coast builder. We are flexible from a product design standpoint. We have worked with Mecklenburg County to make sure our designs met set back conditions that work with them. It took time but we figured it out.
What do you mean by "West Coast builder"? We are headquartered in southern California. Tri Pointe is a publicly traded, national builder in 15 markets coast to coast with Charlotte and Raleigh as our newest markets. We have a willingness to be creative and take risks from a product standpoint.
Can you give me an example? Our Kannapolis project is a great example. Kannapolis' vision was for something that looks a little more modern. We went in and the first product we presented was based on the historic mill houses in Kannapolis and paid homage to that history. They said no. We invited the town staff to a design charrette and got their feedback on the product design. It was risky, but it cemented the relationship between us and the town and staff and the mayor, and our new design fits with the visioning for the downtown.
Pennant Square is a collection of townhomes. How important are townhomes to Tri Pointe's local strategy? We are building roughly 85% townhomes and 15% single-family homes. In the next couple of years, we expect to shift to 60% townhomes, 40% single family. As we came to the market, that was not our strategy. We started with the submarkets we wanted to be in. At the time, our competitors had gone out to further locations to build single-family detached to create affordability.
Tell me about your development work. We are largely developing our own land. That helped as we came to market. Ninety percent of our lots are self-developed. There aren't many master-plan developers left. Not many survived the 2008 recession. McLean (in Belmont) is one of the few left. You have to be flexible with product design and working with municipalities. Our ability to be nimble has helped us.
What have rising interest rates done to the business? When interest rates go from 3% in March to 6% in June, it has a dramatic impact across all consumer segments. The market just froze. The new-home and resell markets fell significantly. Traffic and sales in June, July and August fell more than 50%. When you take mortgage rates doubling and housing value appreciation of 30% in two years, a mortgage costs 60% more than it did two years ago. That creates a huge affordability gap and takes a huge number of people out of the market. Things got better as it normalized and then rates hit 7.25% in October, and the market paused again. Since then, housing prices have come down in all markets — we think in Charlotte by about 10% — and mortgage rates are around 6%. In December and January, we have seen especially first-time buyers in the market. Now mortgages are 25% less than they were in October. It feels more normal. A lot of new-home builders are using incentives to buy down mortgages from 6% to 5%. January felt better in the new-home market.
Who are your buyers? Our buyers are primarily first-time buyers coming out of apartments or their parents' home or from living with a friend. They've reached the point where home ownership is attainable. Or they are relocating into Charlotte. Relocation is about 90% of our demand.
What are the priorities when building? We are building smaller homes on smaller home sites but with livability. People would rather live in a single-family detached home rather than a townhome if they can afford it. Our townhomes are 1,400 to 2,200 square feet. Single family homes are 1,900 to 2,500 square feet but still three and four bedrooms. That's the right positioning.